Over the past few months we've taken a look at a lot of the functionality of Coppice but one thing we haven't mentioned is the business model. So today we're going to take a look at how we're planning to fund Coppice's ongoing development.
What is Coppice Pro?
We want to get Coppice into the hands of as many people as possible. At the same time, we want to make money so we can invest in further improving Coppice over time. To that end, we've decided to split Coppice's functionality up into two tiers: Core features and Pro features.
Core features will be available for free in Coppice. You will be able to download Coppice and use it with these features without having to pay a penny. And most importantly, you won't have to worry about a time limited trial expiring.
Pro features will be available after purchasing Coppice Pro. These will remove certain limits and provide advanced features to help you get the most out of Coppice. Coppice Pro will further enhance the Core features, with functionality such as advanced organisation and linking tools.
Coppice Pro will be available as an annual subscription for just $19.99 a year, available through our website.
Subscriptions
Unfortunately subscriptions can be somewhat polarising for some people, so we wanted to discuss a bit more about why we've taken this approach with Coppice.
Subscriptions can fundamentally change how you ship software. Using a traditional "paid upgrade" model, developers will release several free updates, but then collect a lot of features up into one large update to justify an upgrade price. This can often mean complete features stay unreleased for weeks or months, waiting for that big "2.0" update. With a subscription model we are freed from this restriction, as we have an ongoing income. This means we can release features when they are ready, getting the benefits of them to you sooner.
We are also able to lower the cost of entry. With the "paid upgrade" model, you are effectively asking users to pay up front for the several years of development between major releases. With a subscription model, you are only paying per-year, so we can offer a lower starting price.
Subscriptions also offer other benefits. While we have no concrete plans at the moment, our long term goal is to have Coppice available on other platforms beyond the Mac. Subscriptions will allow us to provide a unified payment model across platforms, so you won't have to keep paying separately for each platform.
Ultimately, we believe subscriptions provide the best model for sustainable, long-term development, while keeping the cost as low as possible to open up Coppice Pro to everyone.
Core vs Pro
So how do we decide what features will be in the Core tier vs the Pro tier? It helps to define what the core functionality of Coppice is:
To collect your thoughts and ideas,
To visually lay out those thoughts and ideas, and
To create links between those thoughts and ideas
The Core tier will provide the basic functionality to make each of these possible, whereas the Pro tier will provide additional functionality to truly get the most out of them. Let's take a closer look at what this means in the initial version of Coppice.
Pages
You will be able to add an unlimited number of Pages to your documents in both Core and Pro, using both the initial types of Pages: Text and Images.
Coppice Pro will add support for Folders. These will let you group your Pages in the sidebar, helping you to better organise your documents.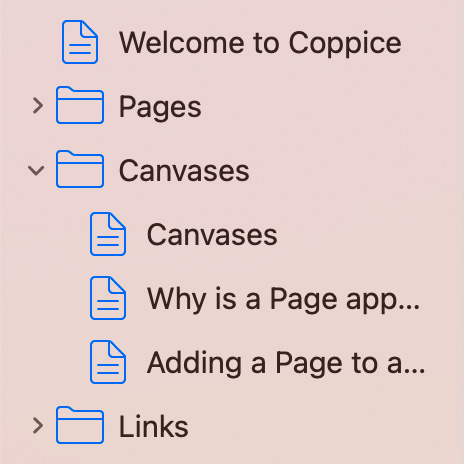 Canvases
In the Core tier you will be able to add as many pages to a Canvas as you like, lay them out, and view the relationships between them. However, you will be limited to just one Canvas per document.
With Coppice Pro, you will have an unlimited number of Canvases per document. You will also be able to set the Canvas theme (Light or Dark) on a per-Canvas basis, rather than it always automatically changing with the system theme.
Linking
Linking is an important part of Coppice, so the Core tier will allow you to manually create links between pages without any restrictions.
We want Coppice to help you find those links though, so with Coppice Pro you will be able to enable Auto-Linking. This will look for references to other Pages as you type and create links for you, leaving you to focus on the content of the Page.
---
Over time we will be adding new features to both our Core and Pro tiers. While our focus will be on further improving Coppice Pro, we already have several new features planned for the Core tier. In a few weeks we will be taking a look at our plans for Coppice after its initial release, so be sure to subscribe to the Coppice Blog, the Coppice Mailing List, and follow @mcubedsw on Mastodon to stay up-to-date.