So things have been quiet around here for… well, about 8 months. Back in January this year I had a plan of refreshing the design of the M Cubed and Coppice websites, something I thought would take a few weeks to do. The simple refresh ended up turning into something a lot more involved and complicated and, 8 months later, you can finally see the result.
I do apologise for the lack of updates in that time. When you're a lone developer working part time on a project (while also working part time on freelancing) stuff tends to fall off the wagon, and updating the blog has been one of those things. Going forward I'm hoping to focus a lot more on keeping you up-to-date on progress here, especially as I'll be starting on some exiting new stuff for Coppice. But more about that later…
What's New on the Website?
I mentioned that the initial plan of a refresh of the design ended up becoming a lot more complex. Of all the projects I've worked on in my career this probably had the most scope creep, but ultimately it is worth it. Almost everything I've built was on the roadmap, they were just more inter-connected than I thought (and so harder to release piecemeal).
The most obvious change is the new look. The colours are a lot bolder than before, the navigation is clearer, and there is barely a sharp corner to be seen. Things started to click in the design phase when I looked at using curves to separate sections, especially on the Coppice product page. I won't claim it's the best design ever conceived, but it's certainly a new peak for my own design skills, and for M Cubed Software.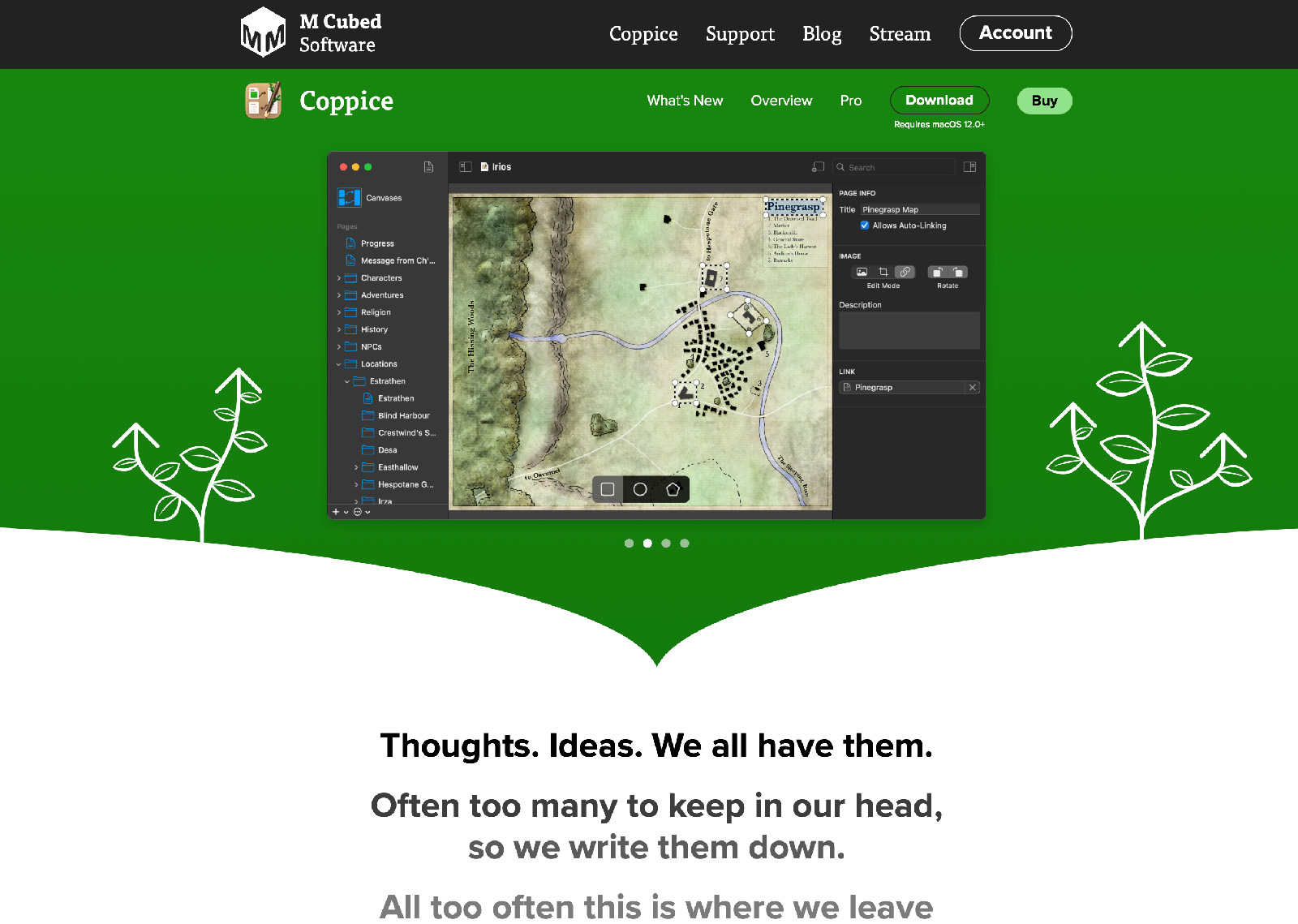 I have also done away with the separation between the Coppice and M Cubed websites. As of today, coppiceapp.com redirects to mcubedsw.com/coppice. It is still very useful to have the domain, but having two completely separate websites which overlapped in some ways was a pain to manage and confusing for people using the website. This also means I can integrate support resources and this blog into M Cubed as a whole.
The 4th page in navigation is the Stream page. This gives details of the M Cubed Dev Stream, including the ability to watch on the page, and an updated schedule. Most of the progress on this update has taken place on the stream, so it's a good place to keep up on what I'm currently working on.
Finally, one of the most important goals for the new website was to simplify how many steps it takes to buy Coppice Pro. On the old website, once you got to the Coppice product page, you had 8 steps just to get to the purchase field. On the new website it's just 4. After you purchase, the old system required 6 steps to activate but the new system can be as few as 2. In total that's down from 14 steps to 6 (excluding the actual purchase part which is the same). That's a big improvement. How did I manage this though? Well…
What's New in Coppice?
Today is also the release of Coppice 2023.1. This is actually not a big release on the feature front, but it does set things up for the future. The biggest new feature is a new license system. A large part of the complexity in buying and then activating Coppice Pro was having to sign up for an M Cubed account and then logging in in Coppice. That is still an option (and offers benefits such as being able to manage your subscription without having to contact me directly), but you will now receive a new licence file when you purchase, which you can add to Coppice to activate your copy of Coppice.
There is another benefit to a licence file though, which is that they can be embedded in a URL. This means that the purchase email you receive will contain a button you can press to activate. You will even find a similar button in your M Cubed Account (if you have one) that will activate Coppice on your current machine. Much simpler!
The second feature, enabled by this new system, is that Coppice Pro now has a free trial. This is something I've wanted to add for nearly 3 years, but there were a few technical roadblocks. You can try out Coppice Pro for free for 30 days right from within Coppice. And this is an entirely risk free trial. There's no sign up and no need to enter payment details. When the trial ends you'll just go back to regular Coppice (though I do hope you'll consider paying to keep Coppice Pro).
Next, Coppice 2023.1 has had a bit of a visual update. You will notice this in 4 places: the About panel, the Coppice Pro info in the inspector, the Coppice Pro settings, and the Welcome screen. I have given these a refresh to fit more closely with the new website design. They are a lot more vibrant and unique than the more standard UIs they replaced and I hope you like them as much as I do. They represent the first step of a larger redesign of the Coppice UI.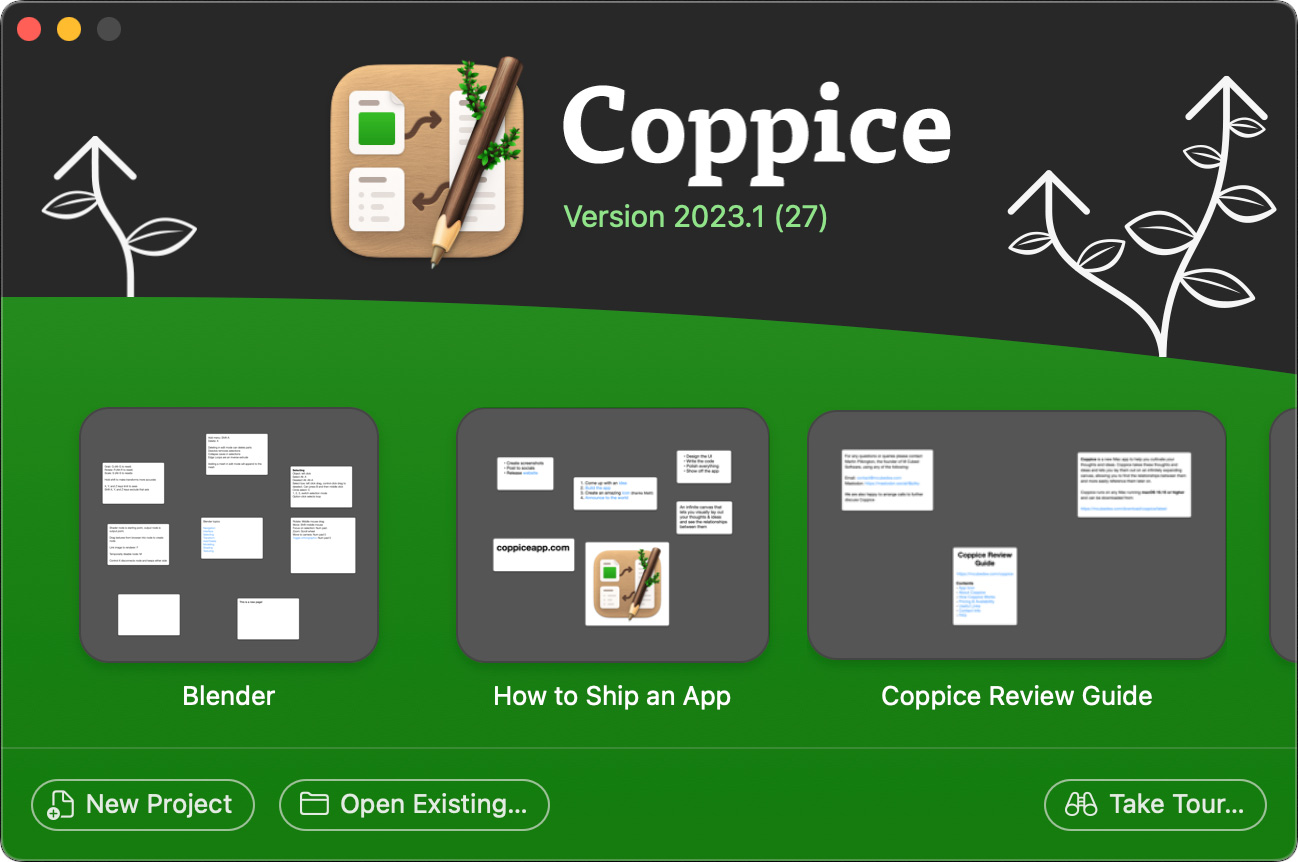 Finally, 2023.1 is the first ever change to Coppice's minimum requirements. Previously Coppice supported all releases from macOS 10.15 through to macOS 13 (and soon 14). With 2023.1 I am dropping support for macOS 10.15 and macOS 11. Part of this is to ease development. Testing on multiple OS versions is difficult, especially with 10.15 and how different the UI design is. The other part is Apple introducing new tools for developers, many of which require macOS 12 and higher. While some of these were needed for 2023.1, the real benefit will come over the next few versions.
What does the future hold?
The immediate future is to take a break. I've been working on this update for 8 months, often working 6-7 days a week between freelance and Coppice. I've got to the point where I'm feeling the burnout setting in, so I'm taking a few weeks off from anything related to Coppice, including the stream. Hopefully this will let me recover before I move onto the next big push.
Which brings us to the next version of Coppice. As I mentioned above, the new UI is the first step of a larger redesign of the Coppice UI. The second step is to revisit the main Coppice window, in particular Canvases. Ever since the first version of Coppice I have had the idea of canvas themes. But there are only 2 themes (dark and light) and they are heavily influenced by the general design aesthetic in macOS 10.15. I would like to finally change that.
So the next version of Coppice (tentatively called 2023.2) will involve me re-building the visual side of canvases, to enable the creation of more themes. The idea is for me to release new themes over time for Coppice Pro users, and maybe (beyond 2023.2) even allow you to build your own themes.
It will also involve fixing a long-standing technical issue with text pages, which causes all sorts of rendering issues. Hopefully this will result in a more reliable and performant canvas when you have a lot of text pages visible.
Once this redesign is finished, the next steps will be to get Coppice into the Mac App Store, and then bring it to iPad. The Mac App Store release will hopefully be either late this year or at the start of 2024, with the iPad release hopefully mid-late 2024. But as we have all seen with this website redesign, my planned timelines rarely work out.
---
I hope this has given you a good overview of what is new and why it has taken so long. There are other technical issues I didn't cover above (such as needing to redesign my database and fix issues with emails) but generally it has just been a case of the project being far bigger than I initially anticipated. The good news is the end result is something I'm incredibly pleased with.
If you would like to keep up-to-date on future developments on Coppice then be sure to subscribe to the blog and/or follow M Cubed Software on our new Mastodon account: mastodon.social/@mcubedsw